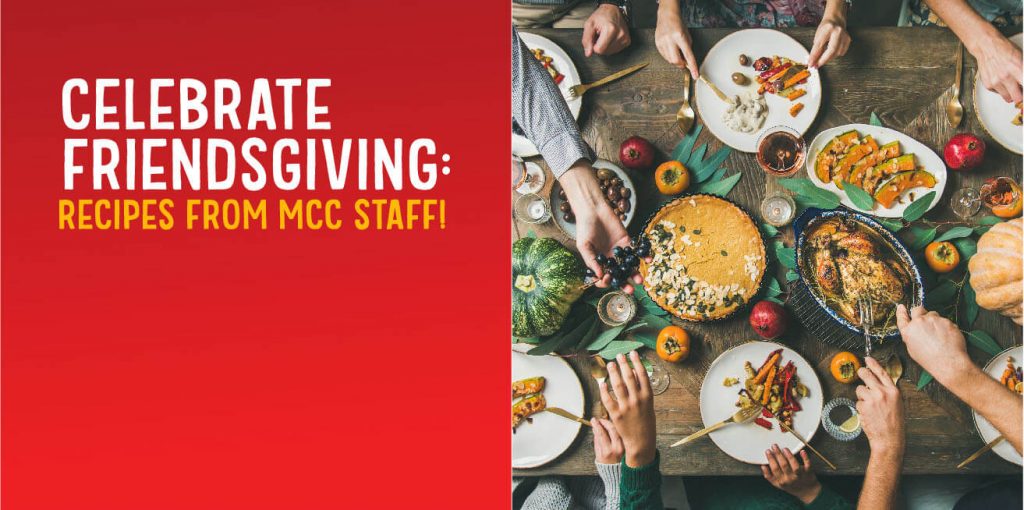 In the US, Thanksgiving is a time to give thanks for what you have, even if you don't have a lot. Most people spend this holiday with their family eating food like turkey, mashed potatoes, cranberry sauce, and pumpkin pie.
Most of MCC's international students in our English or Associate degree programs don't have family in Chicago – that means friends and classmates become a new kind of family! That's why there is another holiday: Friendsgiving! (Friends + Thanksgiving)
Last year, international students in our English as a Second Language (ESL) program celebrated Friendsgiving together by sharing food and drinks after class!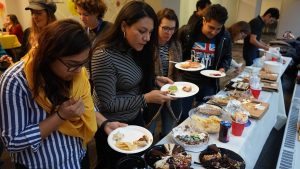 If you want to celebrate Friendsgiving this year, do it safely with a small group of friends.  Cook enough food for everyone and enjoy this special day!
Do you need help deciding what to cook for your friends? Here are a few favorite recipes from MCC staff members to help you on this special day:
Corn Souffle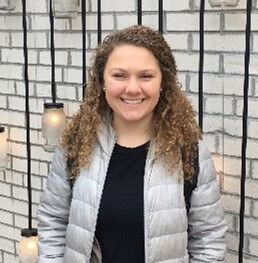 This recipe is from Elizabeth (Janie) Armstrong, an ESL Instructor at MCC
"My mother- in-law gave me this recipe this year. I haven't made it for Thanksgiving yet, but thought it would go well with Thanksgiving, especially for those who are gluten-free like me."
Ingredients:
4 oz corn meal or corn muffin mix
2 eggs, beaten
¾ cup milk
2 tbsp. butter
2 tbsp. sugar
Directions:
Blend all ingredients into one bowl.
Pour into a greased 13" x 9" dish or 2-quart dish.
Bake at 350 degrees Fahrenheit for 35-40 minutes.
Milk Chocolate and Peanut Butter Bars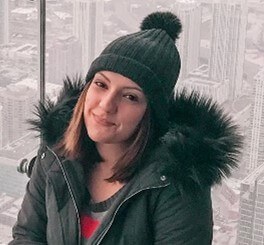 This recipe is from Angela Mohr from Brazil, one of MCC's international admissions counselors.
"We don't celebrate Thanksgiving in Brazil, but my mother-in-law makes a great peanut butter brownie every year. It's SO good!"
Ingredients:
1 cup peanut butter
6 tbsp (¾ stick) butter, softened
1 ¼ cups sugar
3 eggs
1 tsp vanilla extract
1 cup all-purpose flour
¼ tsp salt
2 cups milk chocolate chips
Directions:
Preheat oven to 350 degrees Fahrenheit.
Combine peanut butter and butter.
Add sugar, eggs, and vanilla extract and beat until creamy.
Blend in flour and salt.
Stir in 1 cup of milk chocolate chips.
Spread into a 13 x 9-inch baking pan.
Bake 25-30 minutes, or until edges begin to brown.
Take it out of the oven and sprinkle the remaining 1 cup of chocolate chips over the top.
Let stand for 5 minutes until chocolate chips become shiny and soft.
Spread chocolate evenly over top.
Cool completely and cut into 1 ½ inch bars.
Maple Roasted Brussels Sprouts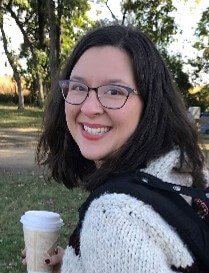 This recipe is from Miranda Mueller, MCC's Associate Director of the International Department
"My family used to HATE Brussels sprouts until I brought this dish to Thanksgiving dinner one year. Now, they ask me to bring it to every family meal!"
Ingredients:
1 ½ lbs. Brussels sprouts
3 tbsp. olive oil
½ cup dried cranberries
½ cup walnuts
¼ cup maple syrup
Salt and pepper to taste
Directions:
Preheat the oven to 400 degrees Fahrenheit.
Rinse the Brussels sprouts and cut them in half.
In a bowl, mix the halved Brussels sprouts with the olive oil, dried cranberries, and walnuts. Lightly season with salt and pepper.
Transfer the mixture to a baking tray.
Drizzle maple syrup over the Brussels sprouts mixture.
Bake at 400 degrees Fahrenheit for 35 to 40 mins or until Brussels sprouts are crisp on the outside and tender on the inside.
We hope you enjoy these recipes! Post photos of YOUR Friendsgiving feast and tag us @mcc.international on Instagram or Facebook. We'd love to see what you're doing for Thanksgiving!