Healthcare is a competitive world. Externships provide an opportunity for students to gain valuable practical experience and stand out to potential employers before they even graduate.
WHAT IS EXTERNSHIP?  Externship is a clinically-based course that takes place in a real healthcare environment (as opposed to labs).  Students gain essential work experience in patient care settings while working alongside experienced professionals.  Externship provides students opportunities to demonstrate their value as future healthcare professionals and potentially be evaluated for hire by the clinical site.
WHO PARTNERS WITH MCC FOR EXTERNSHIP? MCC works with almost 150 different externship partners, representing hundreds of clinical sites, to ensure our students get the best professional experience possible.  We work with many of the top medical institutions in the Chicagoland and Northwest Indiana areas.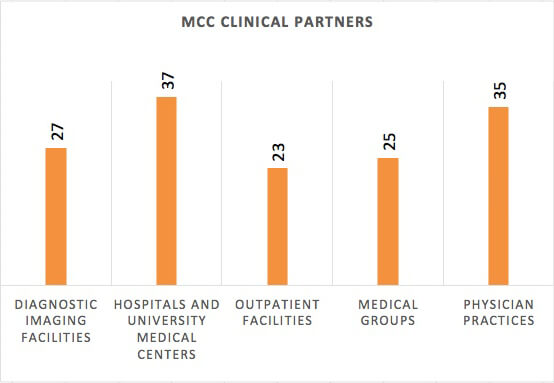 MCC partners with externship locations throughout the industry –
there's something for every course of study.
How Does Externship Benefit Students?
Practice skills in a professional environment
Gain real-world experience working in hospitals and clinics in the Chicagoland area
Receive real-time feedback from experienced professionals
Build a competitive resume to get noticed as a job candidate
Grow your network by connecting with colleagues and managers working in your field of study
Identify what healthcare environments are right for you
HOW CAN STUDENTS GET MORE INFORMATION?  We'd be happy to talk with you! Please call us at 312.236-9000 ext. 1 and ask for Admissions. You can also email us at admissions@mccollege.edu, or fill out an online request here: online application. We're here to help you build your career!
HOW CAN HEALTHCARE ORGANIZATIONS BECOME EXTERNSHIP SITES? Are you a hospital, clinic, laboratory, physician practice or outpatient facility? Consider becoming an MCC Externship Partner! MCC is committed to developing a strong win-win partnership by creating the best possible experience for your organization.
Students are selected to match the skill needs and culture of your site
MCC provides academic support to ensure students bring their top professional skills to their externship experience
You may interview candidates for externship prior to accepting
Externship is a proven way to identify future employees
Externship helps you "build a bench" of qualified professionals, even if you are not currently hiring
Externship sharpens the skills of your current staff by reinforcing best practices.  We always learn as we teach!
Get a first look at future professionals in high-demand areas
Give back to the medical community by shepherding in the next generation of medical professionals
If you're interested, find out more about becoming an MCC Externship Partner and what we offer in support of your institutional mission. Fill out our Partnership Request Form or call 312.236-9000 ext. 4.
Externship benefits everyone!