Happy Surgical Technologist Week!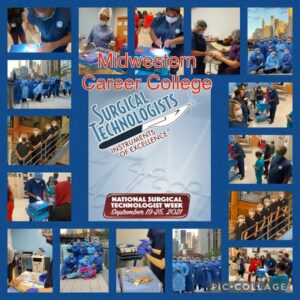 In 1984, the Association of Surgical Technologists designated the third week in September as National Surgical Technologist Week. The Association of Surgical Technologists ensures that surgical technologists have the knowledge and skills to administer patient care of the highest quality. MCC is proud to offer an accredited surgical technologist college program, and wishes all of our outstanding students a great Surgical Technologist Week!
According to the AST, Surgical Technologists are essential – not only in the operating room – but to your kids and families, to local nonprofits, churches and charities, to local businesses, to your neighborhoods, causes and communities, to friends and colleagues, to the profession and to the public.
MCC's Chicago and Naperville campuses offer a 2-year Associate of Applied Science in Surgical Technology, which is the only CAAHEP Accredited AAS in Surgical Technology program in the city of Chicago.
Some of the skills that our students learn are:
Preparation of the operating room environment with instruments, equipment, and supplies
Proper handling of instruments, equipment, supplies and sutures before, during and after surgery
Application of common types of surgical and specialty dressing.
If you are looking for a Surgical Technology training program in Chicago, call MCC today to learn more: 312-236-9000 ext. 1.