As VESL student, I love exploring the city that has been hosting me since my arrival to the U.S and that city is none other than, Chicago. As I mentioned before in other articles, Chicago is a city with tons of options and there's something for everyone. One of the things that Chicago is famous for is its museums and they are always on most of the VESL activity schedules, due to all the things we are able to learn. One of the main museums in Chicago and certainly the biggest one, is the Field Museum of Natural History and I'm excited to tell you the most fascinating things you will see whenever you cross the door of that enormous building located in front of the Soldier Field.
On May 17, 2000, the Field Museum unveiled Sue, the most complete and best-preserved Tyrannosaurus rex fossil yet discovered. Sue is 12.3 m (40 feet) long, stands 3.66 m (12 feet) high at the hips and is 67 million years old. The fossil was named after the person who discovered it, Sue Hendrickson and is commonly referred to as female, though the fossil's actual sex is unknown. The original skull, located on the balcony overlooking Sue, was not mounted to the body due to how heavy it is. An examination of the bones revealed that Sue died at age 28, a record for the fossilized remains of a T-rex.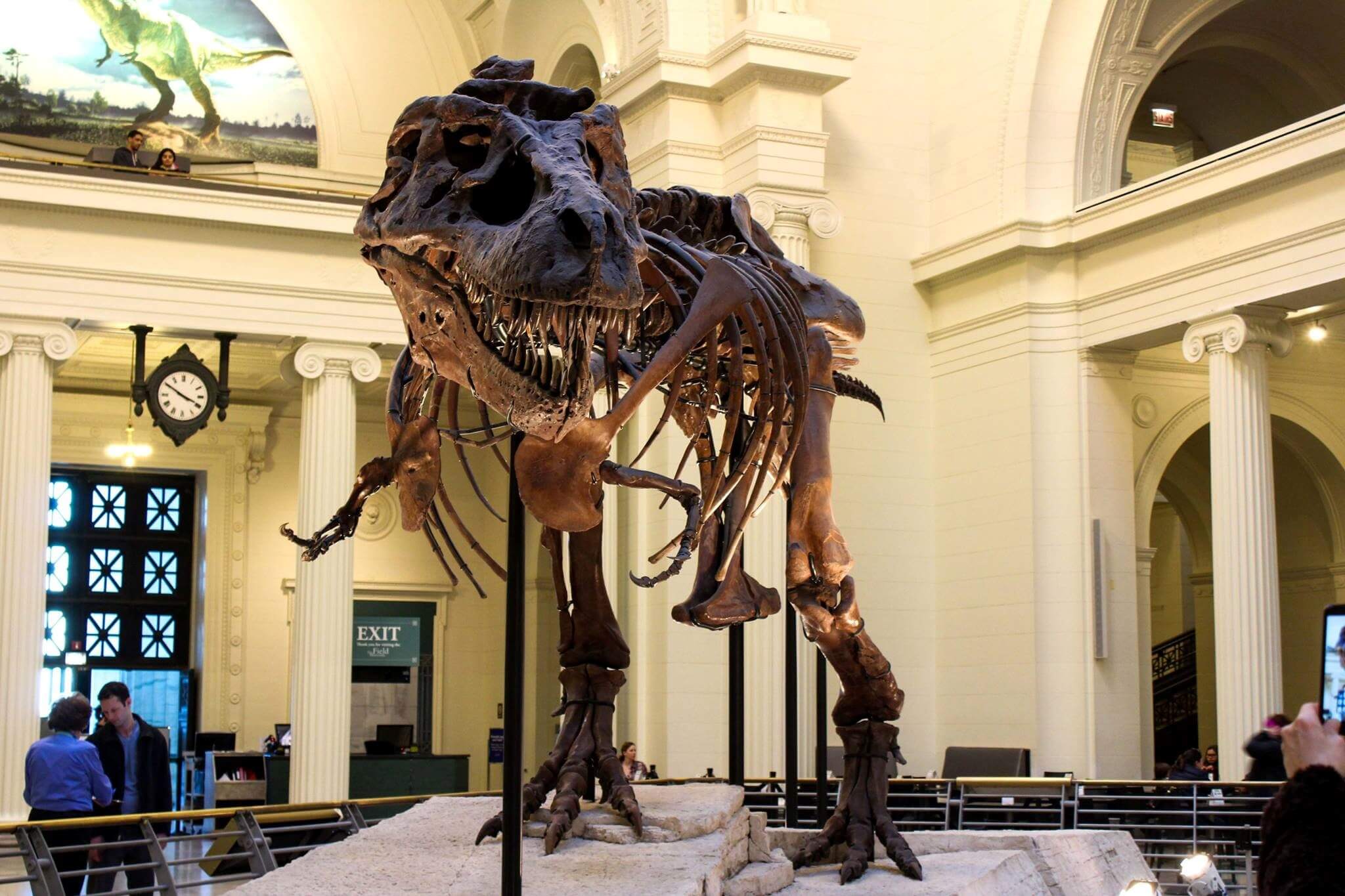 'Evolving Planet' will takes visitors through 4 billion years of the Earth's ever-evolving forms of life. From single organisms to overwhelming dinosaur finds, this hands-on exploration of living history will appeal to visitors of all ages. It doesn't sound like it, but you won't get bored – even for a minute. It is fascinating. The Field Museum has one of the largest collections of mummies in the United States. Visitors can explore a three-story mastaba, a type of Egyptian tomb. It features two full rooms from an authentic 5,000-year-old tomb of a Pharaoh's son, Unis-Ankh. Ancient America is one of the most unbelievable exhibitions I've seen before. This showcase covers 13,000 years of human history in the western hemisphere. Meaning? You are able to walk through a replica of 800-year-old clothes or hunting weapons to get a feel for how life was before computer games and texting.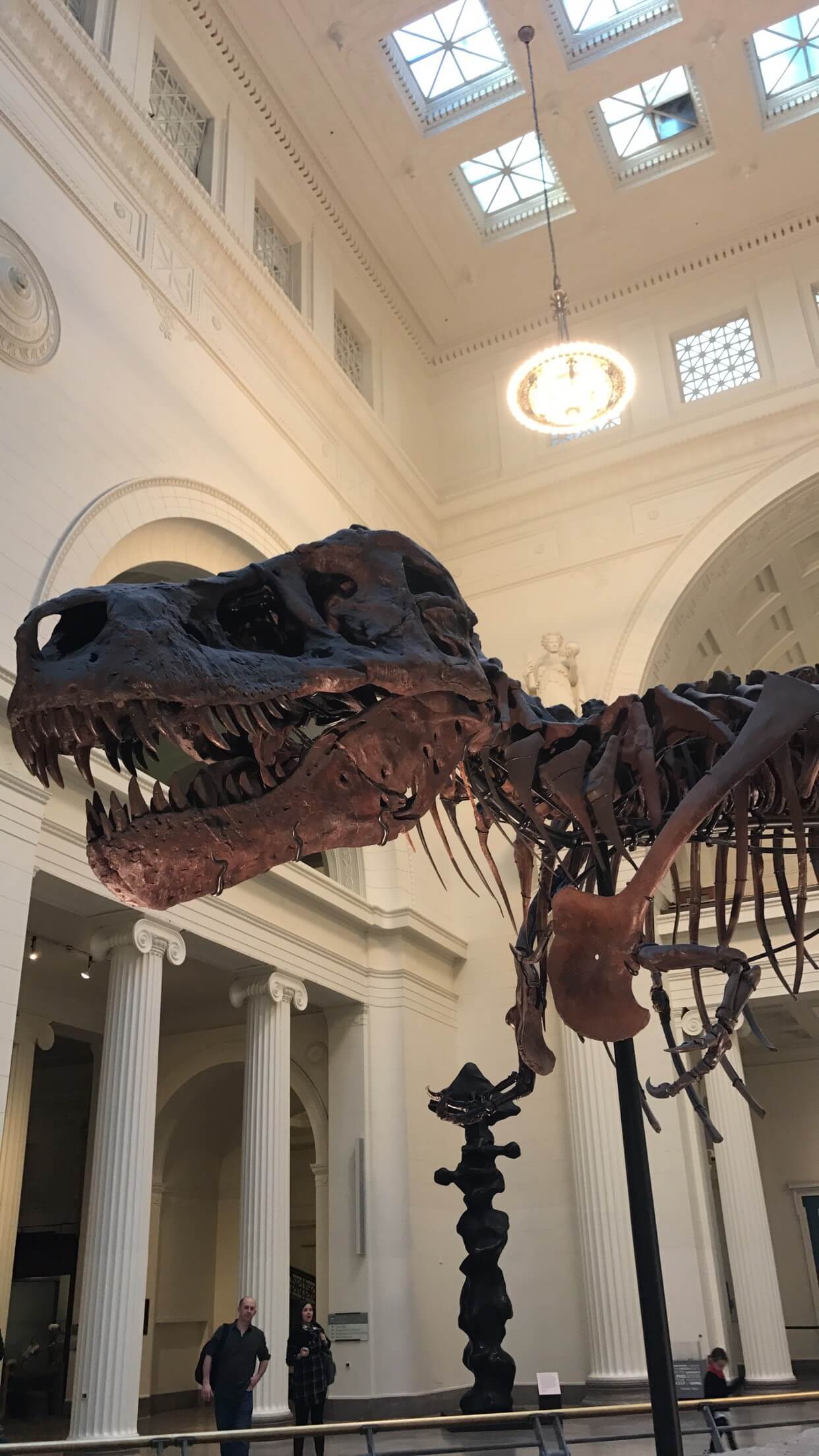 The diverse, high-quality permanent exhibitions, which attract up to 2 million visitors annually, set the Field Museum of Natural History as a 'must-do' in Chicago. As an VESL student, we can go into the museum for free during residents' day. (only thing you need is your school ID, or any photo ID with your Illinois address) Once you are there, explore it with patience and you will learn tons of new things, don't be afraid of spending several hours there, it is worth it! But before you go, swing by McDonald's on the ground floor and check out the best bathrooms in the country. I'm not kidding. Hope you enjoy this museum as much as I do!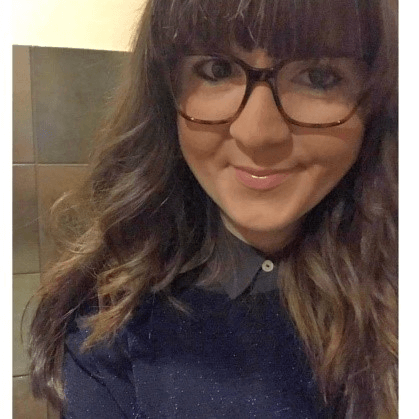 Written by: Stefanie Carpentieri
International Student at Midwestern Career College
Stefanie was born and raised in Venezuela. She has been a journalist since 2014, working in TV, websites, blogging, radio and social media. Photography is her hobby of choice and she's able to use her skills through her position as social media and events coordinator at Midwestern Career College.