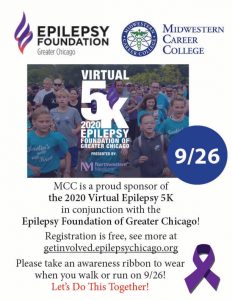 MCC is a proud sponsor of the Epilepsy 2020 Virtual 5K held by the Epilepsy Foundation of Greater Chicago. The event will be held on Saturday, September 26, 2020. Tune in for a virtual kickoff online, then walk or run for this cause! Registration is free. Join in, raise funds, and raise awareness at  getinvolved.epilepsychicago.org.
We've got ribbons! Come by the LaSalle Branch Campus at 203 N. LaSalle, 14th Fl, during regular business hours and pick up a purple awareness ribbon to wear when you walk or run.
As you may know, MCC's 51-week program in Electroneurodiagnostic (END) Technology prepares individuals to be competent electroneurodiagnostic/electroencephalograph (EEG) technologists, and epilepsy is one condition this career path works with. We're glad to be partners with EFGC in this annual event… one of our FIRST 5K sponsorships and certainly our first virtual one!
That date again is Saturday, September 26, 2020. See you there virtually!
#EFGCtogether #EpilepsyStrong
Click to download the one-page flyer & spread the word!