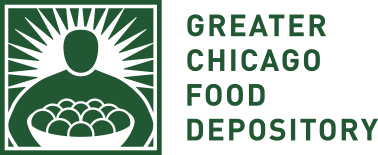 This year Midwestern Career College is participating in a food and fund drive to support the Greater Chicago Food Depository.  I hope you will join us in this effort to help thousands of Chicagoans who are at risk of going hungry in our community.
Our goal is to raise $500 and 1500 meals.
People are struggling to access nutritious food.  Right now, the food insecurity rate in Cook County is 16.6 percent, meaning 860,670 people are unsure of when they will have their next meal.  In some communities, the food insecurity rate is as high as one in three. With the support from our food and fund drive, we will help the Food Depository provide to those in need.
The Food Depository has been distributing food since 1979.  It began as a small operation founded by six individuals with a dream to end hunger; they continue today with the same inspiration, alongside their network of 650 member agencies of food pantries, soup kitchens and shelters.  With our support, they will continue to keep food flowing into our community while addressing the root causes of hunger.
Here are ways you can help:
Donate funds
With every dollar donated, the Food Depository will be able to serve three meals to those in need. Donations can be submitted directly to the Midwestern Career College Virtual Food Drive.
Donate nonperishable food
Collection boxes are located at all MCC campus and extensions from and will remain available through the new year.
Help spread the word
Please forward this email to friends and family and encourage them to help us reach our goal!
Thank you in advance for your help.  Together we can make sure no one goes hungry in our community.