What are you thankful for?
With Thanksgiving just around the corner, most of us are saving our expressions of gratitude for the holiday. But why wait all year long to express our gratitude when we can do it every day?
At MCC, we are lucky enough to have incredible students from all around the world, an excellent staff that works hard every day to serve their students, and highly talented instructors that always put in the extra mile to provide our students with quality education. And we are so thankful for this, for you, and for everyone who is part of our school! We are thankful because we learn from all of you every day!
Santiago C., our ESL student from Colombia, feels very thankful for his family and friends, for living the international student experience, and for everything he has learned at MCC! "I like my teachers and my classmates very much." It's going to be Santiago's first Thanksgiving, as he arrived in Chicago earlier this year. He says that when he thinks about this holiday, he imagines gatherings with loved ones and enjoying delicious food!
Our Associate in Marketing program student Nathaly C., also from Colombia, talked to us about what she feels grateful for. "I am grateful for my life and for being healthy. It has been a difficult year for everyone, bu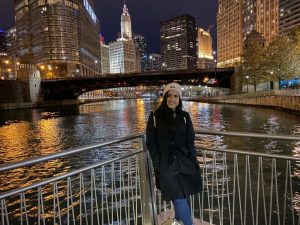 t for me has been one of the most challenging years." Nathaly has spent the past four months in and out of the doctor's office, living in uncertainty about her health. "A week ago, I was given the results of the last biopsy, and I saw the miracle for which I am grateful: it is benign. Thanks to God!" Nathaly, we are so happy for you, and infinitely impressed with your strength, optimism, and positivity!
Mohammed A. from Saudi Arabia is so thankful to be in Chicago. He is studying in our weekend English Language program while also getting ready to take an exam to become a certified doctor in the United States. "I love to cook, and I like fall food a lot. I even experimented with a fusion of my traditional food, baking some rice, chicken, and baked pumpkin." He is very excited about the season and would love to try turkey for Thanksgiving dinner!
There are so many ways to say what we are thankful for: writing a thank-you note, telling someone how much you care about them, and keeping a gratitude journal are just a few ways to do it. And the best part is that it doesn't matter what season it is, or if there is an upcoming special occasion – you can start being thankful today!