On Wednesday, May 30, MCC hosted a career fair at its main campus in downtown Chicago. Approximately 70 students and graduates attended to meet with the 14 healthcare employers.
Designed to assist students and graduates in finding employment in healthcare, the event was held at MCC's main campus at 20 North Wacker Drive, 6th floor.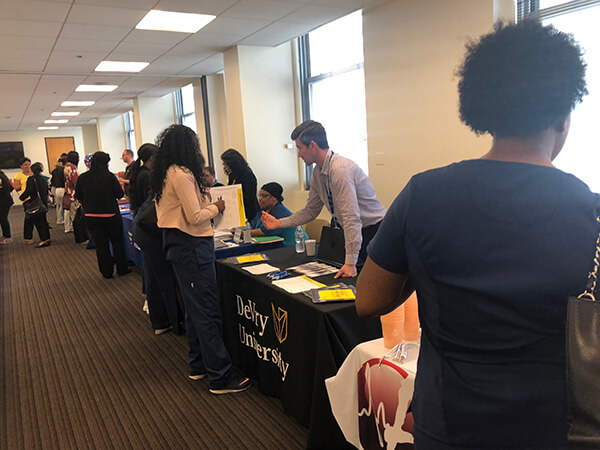 Recruiters from some of Chicago's most important healthcare organizations attended the event:
Presence Health
Fresenius
Midway Neurology
Community Health Care System
Res Care
Medix
Silverado
Landmark of Des Plains
Phalanx Family Services
Veterans Administration
Hospitals and Physicians Networks
Presence Health
Veterans Administration / Jesse Brown VA Hospital
Community Health Care System
Physicians Immediate Care
Uro Partners
Mobile Diagnostic Imaging
Dialysis Clinics
Medical Staffing Agencies
Everest Solutions
Medix
Res Care
Lifesource
Skilled Nursing Facilities
Landmark of Des Plaines
Midway Neurological (Alzheimer's and dementia care)
Phalanx Family Services
Sasi
Silverado
MCC staff members were also available to review resumes and help students set up LinkedIn profiles.