Graduation is coming! Your months and years of hard work are now paying off, as you complete your studies and embark on your career. We want to send you off with an event that you will remember for the rest of your lives as our way of saying thanks for trusting MCC to be your education partner.
When Is Graduation?
Saturday, March 24, 2018, from 3:00 p.m. to 4:30 p.m.
Where Is Graduation?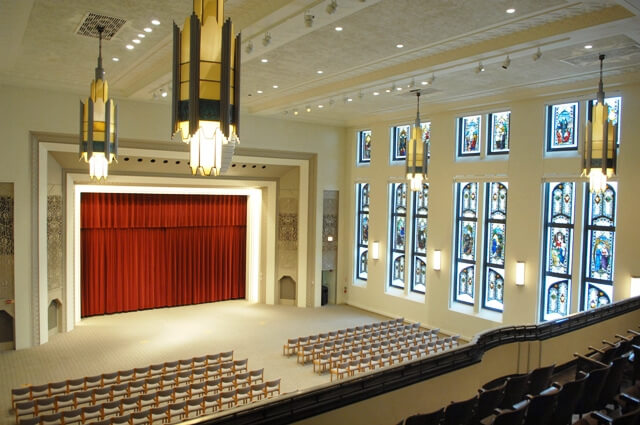 This year, our graduation ceremony will be held at Loyola University Chicago's Mundelein Auditorium at 1020 W Sheridan Rd, Chicago, IL 60660.
Mundelein Auditorium is a beautiful Art Deco–style theatre with stained glass windows, sky-high ceilings, and balcony seating with the ability to accommodate up to 700 guests. It is Loyola's largest auditorium and one of the most sought-after venues at the Lake Shore Campus.
Important Dates
Friday, February 23: Deadline to RSVP, request tickets, provide cap-and-gown size and pay graduation fee.
Tuesday to Thursday, March 6-8: Fittings will be held at each campus location from 11:00 a.m. to 7:00 p.m. When you RSVP, be sure to indicate your reservation date and time for your cap-and-gown fitting.
Saturday, March 24 at 3:00 p.m.: Commencement
Payment Information
MCC's graduation fee is $75 and covers the cost of three tickets, cap and gown, and diploma.
Three free tickets are included with the graduation fee. Additional tickets may be purchased at a cost of $15 each.
If you are paying your graduation fee and requesting:
1-3 tickets: pay $75
4 tickets: pay $90
5 tickets: pay $105
6 tickets: pay $120.
Payment Deadline
Payment for the graduation fee must be received by Friday, February 24. You can pay online or by check or money order. Checks and money orders should be delivered to the front desk at your campus or should be mailed to your campus.
If you are purchasing extra tickets online, make sure to write that in the payment notes. You can select "Event: Graduation Student Fee" and pay for the fee and extra tickets at the same time.
What Do I Need to Do?
Order cap and gown: Include your gown size on the RSVP form. (Sizing instructions are on the RSVP page.)
Pay graduation fee: Please pay the $75 graduation fee by the RSVP deadline of Friday, February 23. Students who do not pay by the deadline will not be guaranteed a cap and gown for the graduation and will not be allowed to walk in the commencement.
Request tickets: Each graduate is eligible for three guest tickets included in the graduation fee, but may purchase additional tickets. Indicate on the RSVP form how many tickets you wish to receive. Additional tickets cost $15 each. Graduates should not count themselves in the number of guest tickets they request. If you are bringing three people, then you would request three tickets. Infants and small children do not need a ticket if they will be sitting on someone's lap.
Be fitted for cap and gown: n March 6, 7 and 8, come to an MCC campus between 11 a.m. and 6 p.m. to be fitted for your cap and gown. Indicate the time, date and campus you want when you RSVP for graduation.
Prepare for photos: When you come to your cap-and-gown fitting, please be ready to have your picture taken. We are assembling a slideshow for use at graduation, and we want your picture in your cap and gown to proudly display your image during the event. We will also provide you with the best of these photos after graduation.
Provide us with your favorite photos: If you would like to share some of your favorite MCC memories during our slideshow at graduation, please submit images to graduation@mccollege.edu.
Attend the ceremony! At your cap-and-gown fitting, we will provide you with specific instructions for seating, lining up and walking during the commencement ceremony.
Questions?
Please contact the graduation team at (312) 889-9131 or by email at graduation@mccollege.edu.